Welcome again to JJNN for February 21st, 2009. Today I will be talking about magical boxes filled with delicious food.
The Japanese have a tradition of traveling around and eating the delicious foods in that area. There is even a place only a few hours by train from where I live that is known for it's ramen. So right in the train station is a map of all the ramen shops in the town. You can take the map and go from shop to shop eating different types of ramen. There is another place a little further away that is known for it croquettes. You can walk from shop to shop and try the croquettes with different fillings.
You don't have to go to the different towns to get the different types of food that are famous in an area. There are such things as Station Boxed Lunches (in Japanese they are called eki-ben). They are usually sold inside a train car, but some times you have to get off the train at the area to get the food. I love eki-ben. It is a little expensive, but it is always filling. You can see some pictures of eki-ben below.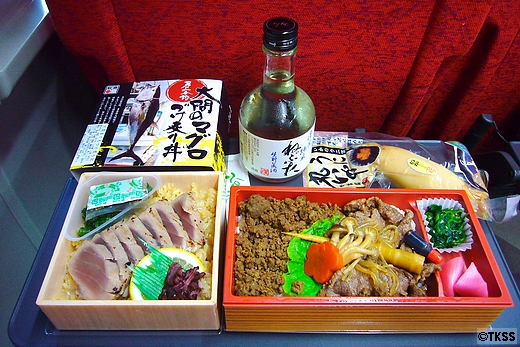 They look good, don't they. The top picture shows two eki-ben. They have both fish and meat. They both look very good. The bottom one has meat and lots of different side dishes. These things are making me very hungry. The reason I am talking about eki-ben today is because of
this
article. The article is about the eki-ben is kyushu (one of the smaller islands in Japan). It sounds out for the second year in a row the eki-ben named kirei-gawa is the number one eki-ben in kyushu.
That is no small feat because the field is 50 different types of bento. Kirei-gawa has lots of mushroom and deep fried potatoes and rice that was cooked with different types of vegetables. It will set you back 1050 yen (around 10USD). Kyushu is a little bit far away so I don't think Iw ill ever eat this eki-ben, but if I am ever in the area I will be sure to try the number one. Yummmm